Do you suffer from a bad back? Are migraines getting in the way of your favorite activities? Turn to general chiropractic care at Greenbelt Wellness and Physical Therapy.
Chiropractic is a natural treatment that helps lessen pain and improve function. It's noninvasive and serves as a complement to traditional medical care. Rather than just treating the symptoms, chiropractic care helps target the cause of your physical pain. In the end, chiropractic care works to restore the body's natural ability to heal itself.
If you're experiencing any of the conditions mentioned above, make an appointment with us. We'll help reveal the source of your issues, so we can better treat them.
General chiropractic can be used to treat a variety of conditions, such as:
Lower back pain
Leg pain
Neck pain
Shoulder pain
Joint pain
Arthritis
Headaches
Tennis and golfer's elbow
Numbness
Respiratory issues
Herniated discs
Scoliosis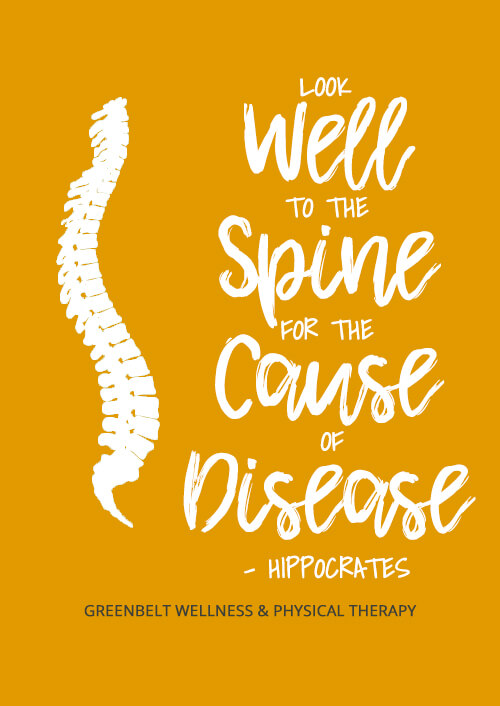 Why Choose Greenbelt Wellness and Physical Therapy
Whether you have neck pain, back pain or migraines, the chiropractors at Greenbelt Wellness and Physical Therapy can provide relief. During your first visit, we'll perform a complete physical exam. If chiropractic care seems like a good fit, we'll then create a personalized treatment plan.
During each visit, our board-certified chiropractors will perform adjustments and other manual therapies. The goal is to increase your range of motion and help restore your health. In turn, chiropractic lets your body perform the way it's supposed to. In addition to making improvements to the spine and the nervous system, general chiropractic care can:
Improve your quality of sleep
Boost the immune system
Increase energy levels
Improve posture
Provide headache relief
Enhance athletic performance
Increase flexibility and range of motion
Regulate blood pressure
And more…
For your convenience, we accept most major insurance plans. If you're in need of general chiropractic care after an injury, we're happy to work with your insurance company. That way, you can receive the care and compensation you deserve. All we ask is for you to report the accident and have your claim number ready at the time of your appointment. We handle the legwork, so you can focus on getting better.
Same day appointments are available at our Greenbelt, Maryland office. If you can't find a time that works for you, contact us today. We'll help you set up an appointment that fits into your busy schedule.