Do you suffer from back pain? Is it stopping you from doing what you love? According to the American Chiropractic Association (ACA), nearly 80% of people will experience back pain at some point in their lives. Fortunately for back pain sufferers, there's hope. When in search of relief, turn to back pain chiropractic care.
Back pain is often marked by aching or stiffness along the spine. In addition, it may occur as sharp, localized pain. Also, the pain might radiate down the legs – a condition referred to as sciatica. Although back pain might ease up on its own, many people suffer from back pain for months and years on end. When back pain persists, find the relief you need to get back to your favorite activities. Ask about back pain chiropractic services from Greenbelt Wellness and Physical Therapy.
Back pain itself is not a disorder. Instead, it's a symptom of another medical issue. It's commonly caused by:
Long periods of sitting
Sports injuries
Muscle strains
Herniated, bulging or ruptured discs
Scoliosis
Arthritis
Osteoporosis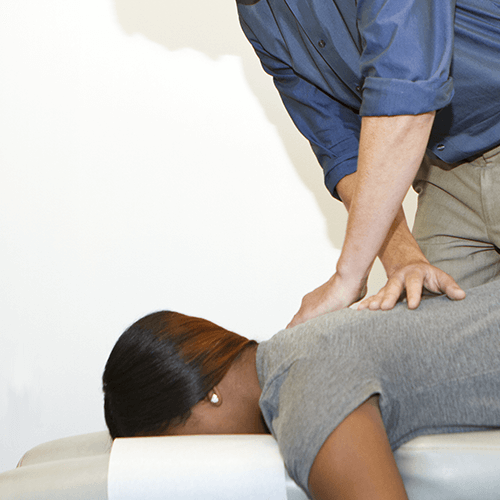 What to Expect from Back Pain Chiropractic
A misaligned spine can cause debilitating back pain. Chiropractic works to realign it. On the first visit, you'll be asked about your medical history and undergo a physical exam. In certain instances, the chiropractor may order lab tests or diagnostic imaging. The idea is to get to the bottom of your back pain and to help your doctor decide if this type of treatment is right for you.
During each session, the chiropractor will make adjustments. This helps promote proper alignment of the spine. In turn, the body will begin to heal itself naturally. This type of back pain treatment can provide relief for muscles, joints, bones and connective tissues. Also, it helps restore mobility to joints.
If you're ready to return to a pain-free lifestyle, make an appointment at Greenbelt Wellness and Physical Therapy. Your first consultation is always free, and we accept most major insurance plans. If you're experiencing back pain after an accident, we'll also work with your insurance company to get you the proper compensation. We'll do the hard work so you can focus on healing. Contact us today to learn more.
Back Pain Chiropractic
October 30, 2018